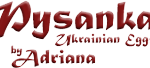 The colorful art of decorating EASTER EGGS, or PYSANKY, has been a Ukrainian tradition for over ten centuries.
Riverside Dickens Festival "Pysanka" Workshops $15 per person
Learn to make traditional Ukrainian decorated eggs "pysanka" using the
centuries-old technique of wax-resist and dyes. Using a candle, we heat the
writing tool called a "kistka" to melt beeswax to draw and decorate an eggshell
with symbolic designs. The egg is then dipped in to a colored dye bath, and
more designs are drawn with melted beeswax on the egg. A final dip in to a
darker dye bath completes the decorating. The final and most exciting step is
melting and wiping off the beeswax to reveal the decorations hidden beneath.
Each student will create a completed "pysanka" to take home. All materials for
the workshop are supplied with $15 fee.
Pysanka Workshops offered both Saturday and Sunday, Feb 24 & 25, 2018
Workshop is approximately 1 hour long, some students may finish sooner some
students may need extra time.
Workshop Instructions start at:
10:30am 12noon 2:00pm 3:30pm
Space is limited. Walk-ups are welcome, advance registration is recommended.
Contact Adriana at (714)225-8776