The Trial of Jack the Ripper
This event is part of a series that starts on February 24 @ 10:30 am and ends on February 25 @ 4:00 pm
February 24, 2018 @ 10:30 am

-

11:30 am

$10.00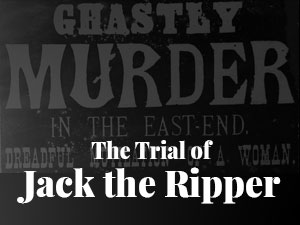 You've asked for one more encore!
Who murdered five London prostitutes in the fall of 1888?
Who confounded the best efforts of the Metropolitan Police, the London Police, and Scotland Yard to discover the identity of the Whitechapel Murderer?
Who committed the grisliest and most disturbing murders in the annals of British criminology?
How could the killer commit these crimes on the streets of Whitechapel under the noses of the police?
Was the identity of the killer covered up?
Why was evidence ignored and even destroyed?
Who was Jack the Ripper?
That question will be explored, the suspects questioned, and the evidence tested in a dramatic attempt to solve the greatest unsolved mystery of all time.  Come listen to eyewitness testimony, hear the opinions of experts like Arthur Conan Doyle, and then examine the evidence yourself.
This show is not for the squeamish and no one under 13 will be admitted.
Saturday and Sunday, February 24 & 25, 2018
10:30 a.m. and 4:00 p.m.
$10
Riverside County Historic Courthouse
Department 1 – 4050 Main Street
Tickets for all performances are listed below. Please make sure to order the ticket for the day and time that you are wanting to attend.
Related Events