Thank you to all who supported our 2017 Festival
– and –
AA Floral Designs – Amazon Prime – AMR Riverside – An Affair to Remember – Juliana Anderson
Lorraine & Richard Anderson – Anonymous – Stephen & Eileen Ashwal  
Judith & Phillip Auth – Barnes & Noble Ltd. – Jane & Joseph Barr – Patricia Barrett
Sally & Chuck Beaty – Brenda Beers – Chris Beers – Cindy & Daniel Bendshadler
Bernard Ranches – Virginia Blumenthal – George Boss – Geraldine Bowden
Selina & Phil Bremenstuhl – Deborah & Donald Brithinee – Joy Daniels Brower
Burrtec Waste Management – California Writers' Club – Steve Campbell –
Deborah & William Chamberlain  – Lynnette & John Channon – Janet Clark
JoAnn & Don Coble – Marie-Jo & Michel Coclet
Steven Craft DVM – Andi & Phillip Craghead – Shelby & Belinda Craghead – Daedalus Books
Susan & Ralph Davis – Linda Dilday & Keith Downs – Dover Books – Marilyn Drury-Katillo
Michael Elderman – Norman Ellstrand & Tracy Kahn – John Evans & Lou Ann Roseling
Evergreen Memorial Historic Cemetery – Evergreen Masonic Center
First Christian Church of Riverside – First Congregational Church – Melinda Fleming 
Chris Foreman – Rebecca Foreman – Valerie Foucrier – Barbara & Frederick Gable 
Galleano Winery  – Mina & William Gardner – Janet & John Gless – Carolyn Grant
Terri & Doug Grant – Greater Riverside Area Dickens Fellowship
Greater Riverside Chambers of Commerce, Downtown Business Council
Eileen & Richard Hamel –  Theresa Hanley – Kathleen Hartman – Heritage House Docents
Lucy & Frank Heyming – Windy Hixson – Sharon Hoeller – Independent Quality Printing
Deanne & Rick Irwin – Isabella's Cupcakes – Paul Jacques – Jammin' Bread – Sally Johnson
Venita & Kirke Jorgensen – Joy & William Junkert – Laura & John Klure – Donna Knox
Patricia Korzec – Kroger (Ralph's Rewards) – Marie Lamons – L'Bistro/Just Pastries
Collette Lee – Lindmair Bakery – Marsha & Ron Loveridge
Jeffrey Lowry DDS – Helene Luley – Judy & Bryan Mahoney – Christopher Manning  
Milazzo Group – Brenda Mildren – Beth & Donald Miller – Mission Inn Foundation & Museum
Muffin Top Bakery – Rey O'Day – Packinghouse Brewing Co. – Party Plus Rentals
Kathleen & James Perry – Sandra Petterson – Debby & Ken Phillips – Ruthta Pichakron
Vikky Pickett  – PIP Printing – Wilma Printy – Provident Bank – Susan Purkart  
Raincross Master Chorale – Jane & Hugh Ralston – Richard Reed – Jessica & James Reeves
Reliance Mfg. – Bessie Ridley – Riverside Cookie Company – Riverside Downtown Partnership
Riverside Fox Theater Foundation – Riverside Public Library – Riverside Public Utilities
Rodolfo & Irene Ruibal – Kathryn Safford – Mary Schaefer – Sandra & William Schnack
Susan & Rich Simonin – Simple Simon's – Barbara Simpson-Lara – Dauris Slaughter
Nancy & Russell Smith – Roberta & Bruce Spieler – Starbucks – Studio 33
Dwight Tate & Katherine Wright –  Sally Thompson – Diane & Dennis Tilton – Carol & Henry Tong
Judith Vails & Lance Duke – Christine Verdonck – Debbie & Mark Walsh – Barbara Wilson
Donna & Richard Wing
---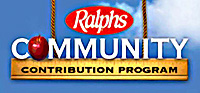 Ralphs Community Contribution Program Supports the Riverside Dickens Festival
Do you have a Ralphs REWARDS card? Did you know that Ralphs will match your Reward points as a donation to the Riverside Dickens Festival?
Go to the Community Contribution page at www.ralphs.com, and click the Enroll button. Sign in or sign up for a Ralphs account, then follow the instructions to register your card with Riverside Dickens Festival
(use NPO number 93799).
Ralphs Community Contributions Frequently Asked Questions
---
We Need Your Support for 2018
Without our generous donors this outstanding Festival would not happen. Planning is underway for the 2018 Festival, and you can become a supporter by making a tax deductible donation. Use our convenient PayPal Donate button below.
or mail your tax deductible check along with your completed donation form to:
The Riverside Dickens Festival, Inc, P.O. Box 113, Riverside, CA 92502-0113
The Riverside Dickens Festival, Inc. is a 501 (c) (3) non-profit organization, EIN:33-0617090
Click for a printable donation form:

Save