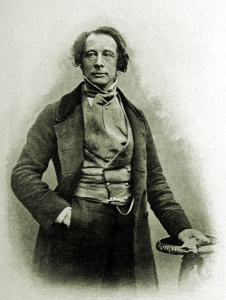 Charles John Huffam Dickens was born on February 7, 1812, on the island of Portsea, Portsmouth, England. He was the second of the eight children born to John Dickens, a naval pay clerk, and Elizabeth Barrow Dickens.
Beginning in 1833, Dickens published numerous articles, stories, and novels. Many of the novels were originally printed in serial form, with each installment anxiously awaited on both sides of the Atlantic. His most famous works include David Copperfield, Great Expectations, A Christmas Carol, Tale of Two Cities, Oliver Twist, The Life and Adventures of Nicholas Nickleby, Old Curiosity Shop, Pickwick Papers, Bleak House, and Little Dorrit.
In addition to writing, Dickens worked as a magazine editor and devoted considerable time to amateur theater. He loved to act, and his daily clothing looked theatrical. He wore bright colored jackets and lots of jewelry, creating an appearance that was considered overly flamboyant by the upper classes.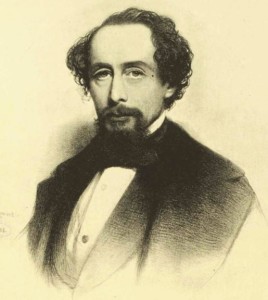 Dickens visited the United States twice, first in 1842 and again in 1867, with one visit before and the other after the American Civil War (1861-1865). Especially on the latter trip, his lectures were very popular and were attended by such notables as President Andrew Johnson. He met many of the prominent American writers and journalists of his time, including Mark Twain, Edgar Allen Poe, Horace Greeley, Henry Longfellow, Richard Henry Dana and Washington Irving.
Dickens vehemently opposed slavery, and called it a "most hideous blot and foul disgrace" upon the face of American civilization. However, he had some sympathies with the cause of the South, because he thought the Civil War was started by the north for economic reasons.
Dickens wrote under several pen names, including "Boz".
The circumstances of Dickens' childhood greatly influenced his writing. His father spent time in debtors' prison, and the family lived in a series of sordid homes. Young Charles loved books, but he had little formal education. He was frail and sickly, but by age 12 was sent to work in a warehouse.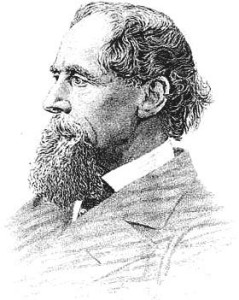 Dickens championed the cause of the poor and downtrodden, especially women and children. According to one of his many biographers, Stephen Leacock, "Dickens felt himself to be a great social force towards righteousness." However, his political views and his suggestions for social improvement were often controversial. He felt that poverty should be solved by giving poor people honest, though poorly paid, work. His attitudes about women were decidedly Victorian.
He was appalled by the unsanitary conditions in London and worked tirelessly throughout his life to establish public works for sewers, clean water, and cleanliness in the streets.
Most of Dickens' adulthood was during the reign of Queen Victoria, who came to the throne of the United Kingdom in 1837. Her reign extended to 1901.
The English public of the period thought his works defined the ideals of British life – home, family, close personal ties, honesty, charity, and high standards of morality. His personal life, however, fell somewhat short.
Dickens loved children, and his wife Catherine "Kate" Hogarth Dickens bore him ten. He separated from his wife in 1858, and developed an intense relationship with a young actress which lasted until his death. His wife's younger sister, Georgina Hogarth, lived with Dickens and cared for his children after the separation.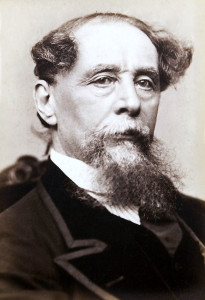 Despite their wide popular appeal, the place of Dickens' works in literary history is debated by scholars. His detractors claim that his early works in particular suffer from improvised plots, exaggeration, and excess melodrama. His defenders point to the excellent craftsmanship of later works, such as Great Expectations, Our Mutual Friend, and David Copperfield.
Probably no English novelist has been more widely read than Dickens. The issues raised by his works are still relevant today. He earned enough during his lifetime to build an estate that adequately provided for his family.
Charles Dickens died at the age of 58, on June 9, 1870 at his home, Gad's Hill Place. He died of heart failure and overwork. He was buried in Westminster Abbey.
Thank you to Joan Patton and Laura Klure for their research of the above information.
Save
Save